Commercial Kitchen Flooring in Sydney
The team at Epoxy Flooring Technologies has extensive experience and training in fitting and improving floors in residential, commercial, and industrial buildings. We know all about floors, and we know just what you need to make your commercial kitchen flooring in Sydney shine. We're trusted by companies such as ICC Sydney, Cochlear and KFC, so you know you're getting experienced and skilled workers that you can trust to revitalize your floor.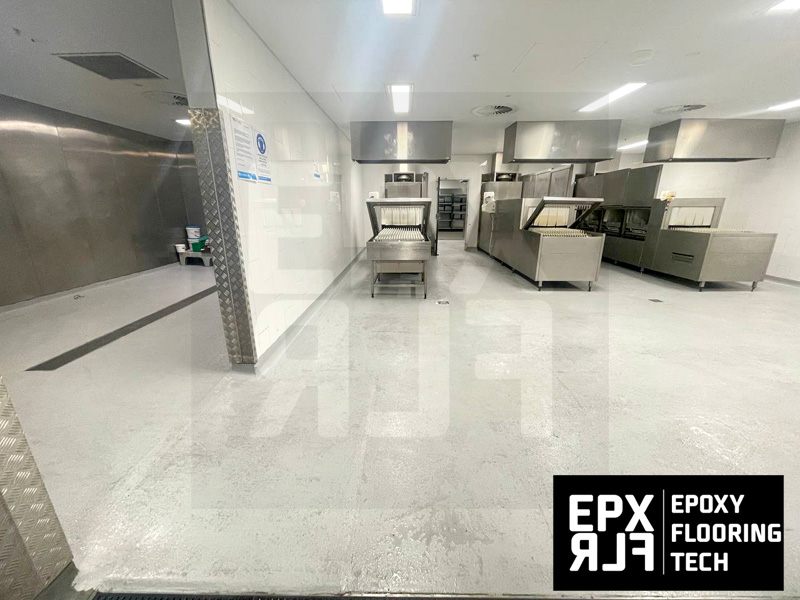 Commercial Kitchen Flooring: Resin Floors vs Tiles
Resin floors are great for commercial kitchens as they're easy to clean and keep hygienic. They provide a tough, chemical resistant finish which is perfect for a kitchen environment. Moisture and chemicals are unable to penetrate the resin topping, creating an anti-stain, anti-mould environment. Because dirt and moisture stay above the resin, you can clean the floor with an ordinary mop or broom and keep the room clean and bacteria-free.
You often see tiles in commercial kitchen floors as they are also very easy to clean; however, they are joined with grout. While this prevents food and liquids falling in between the tiles, it's a lot harder to keep clean. Consequently, small amounts of dirt tend to accumulate in the grout as people walk over the tiles and can result in the growth of mould or other bacteria. Installing a tiled floor can be time consuming, and there are a lot of specific tools and materials needed. This means that it can be very difficult, and contractors can often raise the prices because of this.
Specialists in Commercial Kitchen Flooring
Resin floors are extremely strong and durable as they are made with a number of different chemicals and materials bonded together. They can withstand a lot of traffic, both machinery and pedestrian. While you won't often find machinery moving around the kitchen very often, it's almost inevitable that something will be dropped on the floor. This might break the tiles, creating more cracks for dirt and grime to grow; however, epoxy resin flooring will stay dense and strong.
There are many different resin flooring options available, each with their own benefits and installation time. However, it will need to be left to dry properly, which could mean that your new floor is out of action for a day or two. If you have any concerns about this, contact us, and we can discuss your options.
Why Choose Epoxy Flooring Technologies for Your Commercial Kitchen Floor?
Our product is one of the best epoxy flooring solutions in Australia. Any flooring problems you have, we'll have a solution. We also work closely with you during the planning stage to make sure you're happy with your floor before we start. Being "boutique" by choice allows our team to offer unrivalled expertise in the management of complete commercial fit outs and to create innovative solutions to see projects delivered with high-quality results in the shortest possible time frame.