A carefully-planned commercial kitchen flooring has been known to influence the ordering behaviour of customers. It plays a crucial part in the overall customer experience and improves the efficiency of restaurant operations. Choosing and installing the right floor is the key to a safe and hygienic production environment in commercial kitchen facilities.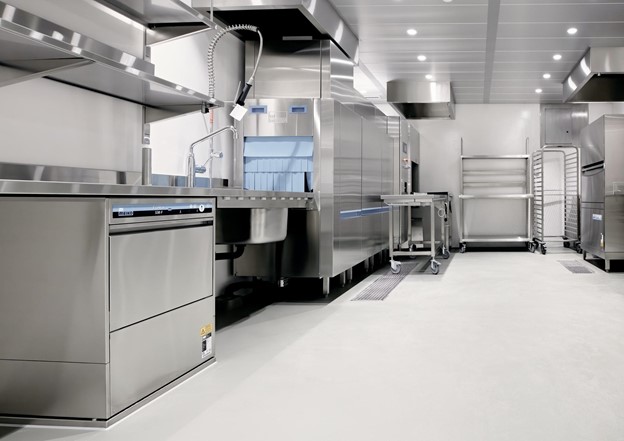 According to David Taylor, kitchen facility supervisor for Monkeyfoodz, "Epoxy is probably today's most popular product of resin floor technology. It has remarkable chemical and mechanical properties that make it suitable for high-traffic areas, such as commercial kitchens. Epoxy floors are available in a wide variety of colours and styles, and can be customised as well."
Epoxy flooring provides functional and custom-built floors in these ways:
1.

 Provides a slip-resistant surface
When choosing a floor for your commercial kitchen, always consider slip resistance. Safety is crucial when considering flooring options for your commercial kitchen. According to Health and Safety Executive statistics, slipping and tripping is the most common cause of significant UK workplace injury.
Epoxy floor coating is an extremely slip-resistant material; epoxy can be mixed with paint flakes, sand, or more coarse grit to create additional traction. With this type of coating, kitchen staff and customers can safely move through spills.
2. 

Easy to maintain
Epoxy flooring is the easiest to clean and maintain. We know that most commercial kitchens are rigid on floors. High-quality epoxy floor coating offers a non-porous, waterproof layer that does not allow the build-up of dirt, dust, or debris between the floor fissures and cracks. You won't have to worry about colonies of microorganisms growing within it.
3.

 Extremely durable
What makes epoxy flooring stand out is its extreme durability. As a high-foot traffic area, commercial kitchens require durable flooring. Choosing epoxy flooring would be practical because it can withstand a high amount of wear and tear. It can last longer, which means you won't have to pay for frequent repair or replacement.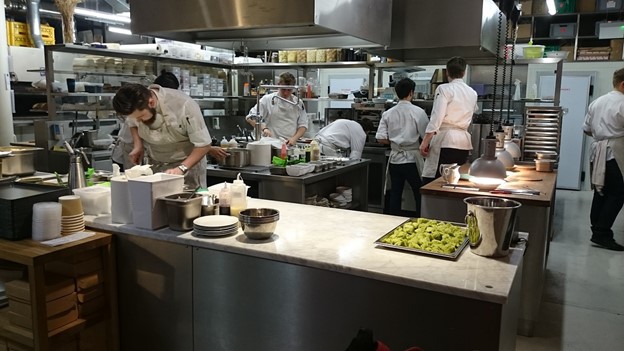 4. 

Promotes good hygiene
Commercial kitchens have a rigid standard when it comes to hygiene and sterility. Epoxy coating provides a seamless floor structure; it helps minimize the chance of harboring bacteria and prevents the accumulation of toxic molds, moisture, and fungus.
5. 

Chemical resistance
Floors are cleaned and sanitized daily to avoid contamination; it requires some strong and harsh cleaning solutions to eliminate bacteria that can harm both staff and customers. These cleaning formulas can also cause damage to certain types of floor.
Epoxy coating provides a firm surface that can stand up to the roughness of daily commercial kitchen operation. Not only that, epoxy floor coating can withstand extreme heat.
Without even realizing it, commercial kitchen floor plan plays a critical role in commercial kitchen operations and the workflow. For high-quality epoxy flooring services in Sydney, call Epoxy Flooring Technologies!